MEMBER LOGIN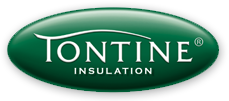 1300 467 852
Call our friendly staff today
Monday, 20 September 2010 07:50
Tontine Insulation and Health & Safety
Health and Safety


Tontine Insulation bulk polyester insulation is the safest insulation product on the market.
The materials used in the manufacture of Tontine Insulation have a zero ozone depleting potential, contain no harmful chemicals, formaldyhde, or toxins and emit no harmful Volatile Organic Compounds (VOC's).

All Tontine home insulation products can be installed without the need for special protective equipment. Tontine Insulation products do not contain binders that may deteriorate over time, or use short or brittle fibres that is prone to breakage and is easily respirable. Therefore Tontine Insulation products do not create the airborne dust that other insulation products can cause due to fibres or other detritus working through lighting, air conditioning or other ceiling vents. Polyester is one of the fibrous insulation recommended by Asthma Foundations Australia for unrestricted use in low allergen or asthma friendly buildings.*
*For more information please see The Asthma Foundation of Western Australia Inc, "Towards the Low Allergen Home", www.asthmawa.org.au.
Also see Asthma Foundation NSW, "Asthma Friendly Children's Services - Giudelines", www.asthmansw.org.au.
Fire Control


Tontine Insulation products offer excellent fire properties as tested in accordance with AS/NZ 1530.3.
Tontine Insulation products offer excellent fire properties as tested in accordance with AS/NZ 1530.3.
Accidental or incorrect installation of Tontine Polyester Insulation that is too close or partly covering halogen down lights will not cause the home insulation to ignite and contribute to a house fire. The most likely scenario given a faulty installation as described above would see the batts shrink away from the heat source creating a gap between the heat source and the home insulation allowing the heat to dissipate as required under the insulation installation standard AS/NZ 3000 & 3999.
For further information please see our Material Safety Data Sheets.
If you require further information, or have a specific insulation project in mind, contact us
You can trust Tontine Insulation to deliver
you 100% safe bulk polyester insulation.

1300 467 852
Call our friendly staff today