MEMBER LOGIN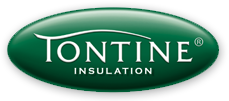 1300 467 852
Call our friendly staff today
Monday, 20 September 2010 04:18
Why is Tontine Insulation so Environmentally friendly?
*Tontine Insulation is Now Certified GREEN TAG GOLD PLUS*
You can TRUST TONTINE even more with the assurance our products have been labeled with the GREEN TAG GOLD PLUS accreditation from Ecospecifier Global. Green TagTM is a third party independent green product rating system designed to evaluate the ecological impact of a product through rigorous testing and Life Cycle Assessment.
Tontine Insulation products were rated for Health and Ecotoxicity, Biodiversity, Life Cycle Assessment score, GHG and Social Responsibility. The products achieved a rating of 0.0 for Health and Ecotoxicity meaning Tontine insulation has virtually no chemicals or toxins harmful to health. This is particularly beneficial for buildings where allergy or asthma sufferers are a concern.
Because of our high rating, architects, specifiers, builders and designers are able to earn Green Star credit points when using Tontine Insulation products, allowing projects to achieve a higher overall Green Star rating.
For more information please visit ecospecifier.org
Environmentally Friendly Insulation
Tontine Insulation is committed to producing environmentally friendly insulation to ensure the sustainability of the environment. This commitment extends throughout the supply chain and includes eco friendly insulation production processes, selection of materials, distribution network, and the recycling of manufacturing and/or product offcuts.
All new buildings must meet Government 6 star energy ratings and eco friendly insulation is a vital part of this.
Why is Tontine environmentally friendly?
For more information on environmentally friendly insulation, please see our Environmental Data Sheet.
You can trust Tontine Insulation to deliver
you 100% safe bulk polyester insulation.

1300 467 852
Call our friendly staff today