MEMBER LOGIN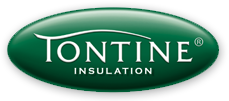 1300 467 852
Call our friendly staff today
Monday, 20 September 2010 07:58

Facings
All Tontine Insulation products can be faced with different grades of foils, fabrics and vinyls. Facings can be added to any Tontine polyester insulation product in order to enhance the appearance or the performance of the product.
Some typical types of facing materials are as follows;
For exceptional acoustic performance and sound deadening properties a loaded vinyl can be laminated to a range of Tontine acoustic insulation products achieving a material rating of up to Rw 28.
All foil facings are available with a 150mm overlap for rolls at 120cm wide and a 100mm overlap for rolls at 140cm wide.
For more information or help with a specific project, please contact us or see our Material Safety Data Sheets.
You can trust Tontine Insulation to deliver
you 100% safe bulk polyester insulation.

1300 467 852
Call our friendly staff today