MEMBER LOGIN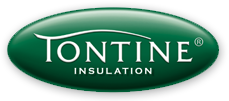 1300 467 852
Call our friendly staff today
Wednesday, 22 September 2010 08:24

Tontine Thermal Insulation & Acoustic Insulation
Our range of quality polyester thermal insulation and acoustic insulation is suitable for all home and commercial applications including roof insulation, floor insulation, wall insulation, soundproofing insulation and ceiling insulation.

All of our Batts, Blankets and Rolls are made from a minimum of 83% recycled fibres and are safe for the environment. Our products can provide you with year-round comfort and will increase the energy efficiency of your home, office or building.
Tontine Thermal Insulation & Acoustic Insulation is now GREEN TAG GOLD PLUS CERTIFIED
Our products have gone through independent, rigorous evaluation to determine their exceptional 'green factor' and can help you earn Green Star Credit points in Green Star building projects. Read more about Green Tag.

You can trust Tontine Insulation to deliver you 100% safe bulk polyester roof insulation and wall insulation products as well as acoustic insulation products Acoustisorb and ACOUSTI-PANEL™.
Quick Links

Latest News